Travelling with your kids: Sri Lanka
Pénélope (10 years), Eléonore (12 years) and their parents in Sri Lanka
A marvellous introduction to Asia with children: amazing landscapes with tea and rice fields, strolls on elephant-backs, beaches, Buddhist temples and a lovely population… to discover with your family!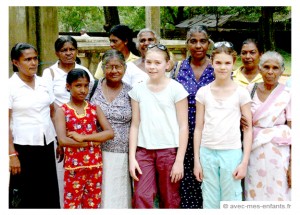 Two weeks, in February 2010: from Colombo to Mirissa (South), through Sigirya, Kandy, Ella and Tangalle… 
  What we adored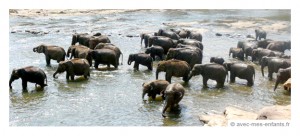 Approaching the elephants of the Pinnewala Orphanage (approximately 1 hour 15 from Kandy): the baby elephants are nourished with feeding-bottles and you can watch about 80 elephants bathing in the river! An impressive sight that the children really adored. Even if the place is very touristy, admissions a little expensive (approximately 38€ for 4 people) and employees ask for money for each picture taken… you really have to go there with your kids!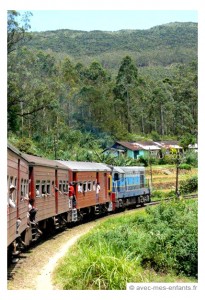 Taking the train, 2nd class, with Sri Lankans… and discover superb landscapes in the mountainous regions, between Nuwera Eliya and Ella! The occasion to meet Sri Lankans in their daily life and exchange with them… Of course it gets very crowded and therefore it is better to try to be there early in order to have a seat. If not, you can always sit in the "restaurant car", where we settled not having a regular seat….
  
Visiting a spice garden around Matale, on the road between Dambulla and Kandy. It is the occasion for the children to see where all the spices we use come from; guided tours in the plantations are offered.
  
Taking a ride on elephant-back: several possibilities around Habarana. It is generally a one hour stroll around a lake (43€ for 4).
  
Our favorite places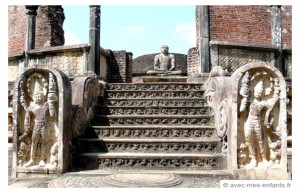 Archeological sites: very pleasant to visit, superb statues of Buddha to be discovered… of less obvious interest for very young children! We appreciated the visit of Anaradhapura and Polonnaruwa greatly. It is located within a beautiful natural frame. Considering the small number of tourists, there are also very few hawkers, who can become very insistent in other places… We also really appreciated animated places of worship, like the Temple of the Tooth in Kandy, where you can see the faithful ones praying.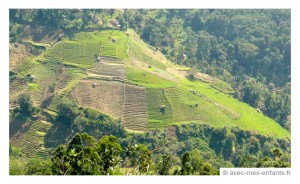 The mountainous region: quiet small towns or villages, where the temperatures are cooler (you sleep very well at night, without air-con nor ventilator). Ideal to rest in the middle of the trip, stroll in the tea plantations, carry out small excursions in tuk-tuk to visit temples or to see cascades. Another interesting point about this halt, in Ella for example: good lodgings and food quality can be found there!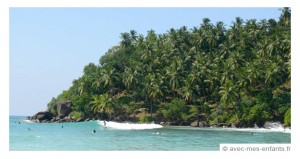 Mirissa Beach: certainly quite touristy, but it has only one big hotel. The other lodgings are guesthouses, which are rather pleasant. You can swim there very peacefully, at any hour of the day, considering the water's temperature, around 28°C! There are few waves, you can also go snorkeling with a mask and tuba. The best solution is to stay in a guesthouse located directly on the beach: our daughters were able go bathing on their own, without any danger…
  
Family hotels and guesthouses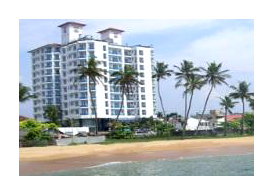 If you must spend the night in Colombo, Global Towers Hotel & Apartment, on the sea front, offers apartments with 2 or 3 rooms, perfect for families, around 70€. Click here to make a reservation.
  
Our favorite addresses are guesthouses (small establishments, like Bed & Breakfasts), but in Sri Lanka you can find something to fit all  tastes and budgets…
  
In Kandy, Shangri La: small  guesthouse, held by French-speaking owners with whom it is very interesting to exchange. We had the impression of being accomodated by friends, in a traditional house, with old furniture, books at one's disposal… The house, surrounded by a garden, is  5 minutes away from Kandy's center by car. A family room with 2 double beds and a bathroom (without hot water) costs 3.000 rupees for 4, breakfast included. Excellent meals are prepared upon request by the adorable house cook.
 
In Ella, Hill Signal guesthouse: very well kept, with a superb view onto the surrounding mountains. Double rooms with bathroom and hot water, with or without view (1600 or 2600 rupees for 2, breakfast included). The meals are delicious and the owner, who speaks English, is very obliging.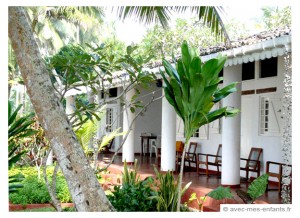 In Mirissa: Palm Villa. Superb view and direct access to the beach, garden with several places where one can peacefully rest… a place we loved immediately! Vast family room with 3 separate spaces able to accomodate a family of 5 for approximately 31€, breakfast included. Not to forget, also a French-speaking owner, attentive to his customers and with whom it is very pleasant to discuss. Excellent food, facing the ocean… A great address!

  
Eating with kids in Sri Lanka
  

For lunch, we were generally satisfied with quick meals taken in small local restaurants, or just fruit served with delicious yoghourt made with buffalo milk, sold in terra cotta pots (safe to try… even if they sit in the sun!)
 
In the evening we usually had dinner where we stayed, because meals are cooked in guesthouses. We liked the "rice and curry" and the food is not too spicy compared to that which you find in the small local restaurants. It is thus perfect for children! In general, meals need to be reserved a few hours ahead of time.
back-to-top
What we liked less
  
Tangalle beach, large, wild, but too dangerous for children, considering the rocks, waves and sea currents.
  
Colombo: we saw only the fort district, the political and colonial buildings district, but of little interest. You can stay in Sri Lanka without visiting its capital. The airport is located nearby, and if you travel just a little over an hour by car to the north you might, like many travellers, choose to sleep rather in Negombo, a seaside resort.
  
Tips
  
We travelled on Sri Lankan Airlines from Paris-CDG (on the way to go with a stop and a direct return). Planes were on time, service on board was very acceptable, special children's meals, small gifts and individual screens with programs and games to choose. Moreover, the prices are very competitive if you resserve in advance.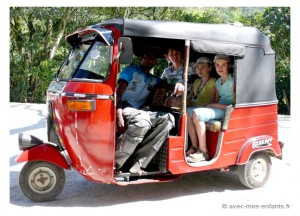 To travel around the country, the best solution seems to be a combination of various means of transportation: car rental with driver for part of the trip, generally to visit the "cultural triangle", it is comfortable and remains cheap, especially if you negociate directly with the driver. But it would be a shame not to try public local transportation (buses and trains), to meet Sri Lankans in their daily life. For short distances (less than 15 km), tuk-tuks are a good solution, more exotic than taxis and easy to find!
  
February is the high season, but there are few tourists anyhow. The weather conditions are very favorable and sunny.

Regarding safety, the country has gone known a long period of civil war, thus explaining the frequent presence of the army. Controls take place at some of the important sites' entrance, which is rather unpleasant, even if the soldiers were always very courteous to us. In Colombo, the fort district, where you can see the Presidential Palace, amongst other things, was under monitoring: most streets were closed off to traffic. We were aloud to walk along deserted streets… after having undergone several police controls and being forbiden to take any photographs! Clearly an odd environment which can be a little distressing. In the North and the East (where we did not go) travelling conditions remain apparently difficult.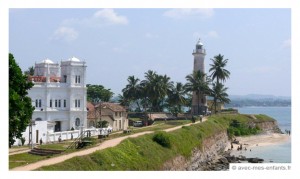 On the medical level, paludism must be taken into account. We made the choice not to take an anti-paludism treatment, but we were very cautious to avoid being bitten by mosquitos and other insects: clothing impregnated by repellent, long clothes in evening, repellent anti-mosquito… Good to know, the rooms are always equipped with mosquito nets.
Don't forget to bring
  
– a first-aid kit adapted to the tropical countries 
  
– what to keep away mosquitos
  
– light trousers and long sleeve tee-shirts for the evening
 And enjoy your stay in Sri-Lanka with the kids!
back-to-top
Also in english version: Venice with kids (Italy), Paris with kids